たいとうりょかん
Traditional Japanese style guesthouse in Tokyo for travellers
Add : Nishi-Asakusa 2-1-4, Taito-ku, TOKYO 111-0035
Tel : 03-3843-2822 / +81 3-3843-2822 (from overseas)
Email : taito-ryokan@libertyhouse.gr.jp
Access & Map


Access from the Airport
From the Narita Airport ( New Tokyo International Airport )
A:
Narita Airport

---

Ueno

---

Tawaramachi
(Keisei Line)
(Ginza Line)

| | |
| --- | --- |
| 1. | Narita Airport - (Keisei) Ueno |
| | Keisei Narita Sky access line ==> Skyliner (JPY2,470, about 40 minutes) or Access express (JPY1,240, about 70 minutes) |
| | Keisei main line ==> Limited express (JPY1,030, about 80 minutes) |
| 2. | Keisei Ueno - Ueno |
| | About 3 minutes walk through underground passage |
| 3. | Ueno - Tawaramachi |
| | 2 (two) stops about 3minutes on Ginza subway line, JPY170 |
| | Taxi (Ueno - Taito Ryokan direct : around JPY1,000) |
B:
Narita Airport

---

Tokyo

---

Ueno

---

Tawaramachi
(JR Line)
(JR Line)
(Ginza Line)

| | |
| --- | --- |
| 1. | Narita Airport - Tokyo |
| | About 60 minutes on JR Narita Express, JPY3,020 |
| 2. | Tokyo - Ueno |
| | About 7-8 minutes on JR Yamanote line, JPY160 |
| | Taxi ( Tokyo - Tawaramachi : around JPY2,000 - JPY3,000 ) |
| 3. | Ueno - Tawaramachi |
| | About 3 minutes on Ginza subway line, JPY170 |
From the Haneda Airport
Haneda Airport

---

Asakusa
(Keikyu Line and Toei Asakusa Line)

| | |
| --- | --- |
| | Haneda Airport - Asakusa |
| | About 45 minutes by Keikyu line and Toei Asakusa line, JPY650 |
From Tawaramachi Station ( G18 on Ginza subway line ) to the Taito Ryokan
It takes about 3 minutes to walk

1.
Take exit 3 of Tawaramachi station on Ginza subway line.
2.
Go north towards 'Mister Doughnut', 'Familymart ( convenience store )', 'Tawaramachi Police Box ( Koban )'.
3.
Turn left at the corner of Tawaramachi Police Box ( Koban ) just after Familymart, which is way BEFORE Asakusa View Hotel.
4.
Enter Kikusui Dori, which starts from the Koban ( tiny little 2nd story concrete house, just a small police box, not a big police station ).
5.
Keep going for about 30 seconds, then you will see the old-fashioned-wooden-house on your right hand side at the cross-roads (without traffic lights). Opposite ( your left hand side ) is Boston Club Hotel.
6.
Welcome to Taito Ryokan!
7.
Any difficulties finding us? Please call 090-5321-3599 for quick assistance.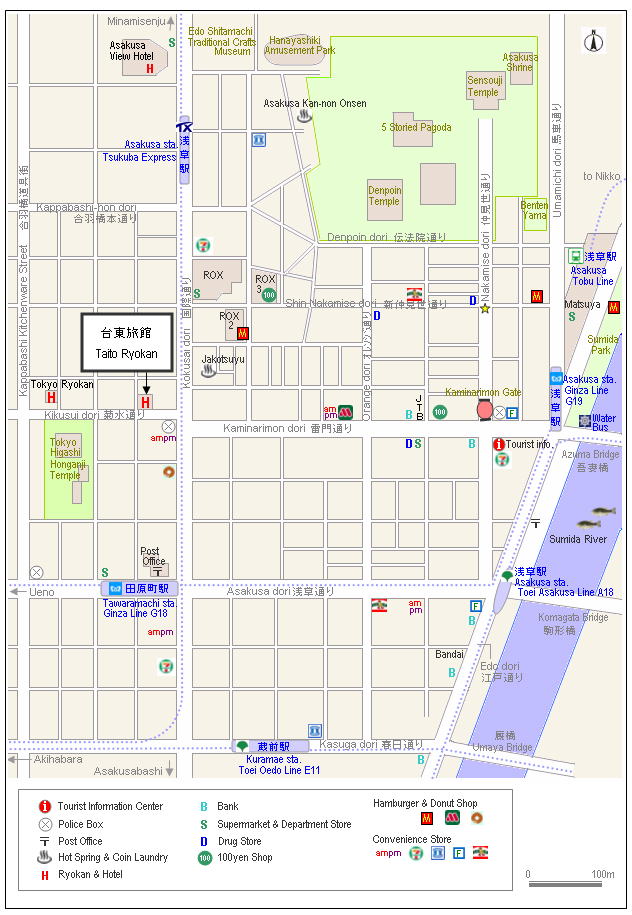 Att : ampm has been changed into Familymart

PAGE TOP

Home Facilities Room FAQ Reservation Travel Links
Copyright Taito Ryokan all rights reserved